Damn when will Money B of Digital Underground and Raw Fusion finally hit us with his solo album? It was supposed to come out in October, but it probably has been pushed back to next year, it features the likes of The Delinquents, DOT, 3rd Rail Vic (of Hobo Junction, Saafir's crew which battled Casual and the Hiero crew) and J-Cutt.

Schoolly D will drop a new album soon. It's called "Funk and Pussy" and will be released by PSK Entertainment, for more info check the webpages: www.pskentertainment.com and www.geocities.com/sunsetstrip/show/1490/….

Dutch female MC Strezz might sign with an American label, Select Records, as her A&R, DEAMS, has returned from the U.S. after talks with several companies, including the Ruff Ryders camp and Gee Street. There was also intrest shown for Big Mic, DEAMS also assistans him with his A&R.

Another Wu-Tang affiliate is coming with an album, this time it's Darkim (Darkim Be Allah), of the Wu-Elements, he was featured on the Gravediggaz' last album and on Cappadonna's joint. You can check for the first single at www.mp3.com, it's called 'Niggas Know'.
Raekwon has released the first promo single for his new album "Immortality", they are called 'Live From NY' & 'Power'. The album will have tracks produced by Six July, Trauma, Triflyn, Vo, Pop and Masta killah, Method Man, American Cream Team, Killa Sin and Pete Rock will drop verses.
The Gravediggaz have just released a new 12" on the Darc Mind Label, as I reported it doesn't feature RZA or Shabazz The Disciple, their newest member. Rumours are it's a DJ Premier production!
Another shooting took the life of a 15 year old and injured two other people at a Hip Hop party with performances of Shyheim, the shooting started after he left the stage. No motive or suspect have been named by the police. It's kinda fucked up with all this violence going on.

Quasimoto (who you might know from several Lootpack affiliated projects) has finished his own LP, and producers Wolf and Madlib are putting the final touches on the album this week. It will feature 24 songs. Quasimoto also just finished "Hitten Hooks" (based on Biz Markie's "Pickin Boogers") B/W "Microphone Mathematics" remix. Neither will be on his album. Kazi, also on Stones Throw, is in the studio too, recording his own 12", produced by Madlib.

Speaking of the Diabolical, word is Biz Markie will do a new album, with Erick Sermon and Premier behind the boards, last thing I heard he was signed to Erick Sermon's Def Squad label on MCA.

50 Cents has a new track out on which he disses Jay-Z and Nas, Sticky Fingers also has beef with Jay-Z. I'm still trying to find more info about this beef, so I'll keep you posted.
DMX, his Ruff Ryders crew, Q-Tip, Terror Squad and Jay-Z will team up to do an album called "Next Up: Blunt Blends Volume 2", and it will feature artists with their proteges.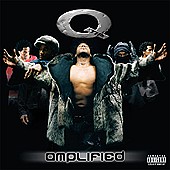 Q-Tip's new album will feature a cut with Korn which, of course, we've all been waiting for, really...
Jay-Z is currently working on his album with Timbaland, Rocwilder, Beanie Siagal, Memphis Bleek, Amil, Sauce Money, Missy Elliot, Juvenile, Twista, UGK, Mariah Carey and others. He claims he will drop a more 'street' album.

Swizz Beats is not getting sued by one keyboard company as I reported last time, there are two companies sueing him.

Dr. Dre has this one track on his new album, on which he disses MC Ren, but Dre claims there's no beef, at least not anymore, he said he already recorded the dis but later did a track with Ren and it's all good. Cube will not be on the album, Dr. Dre says that was because Cube didn't return his phonecalls. Dr. Dre claims that a video-tape has been stolen from his home at a party, and says it contains x-rated material, it's a kind of Pamela Anderson video I think, but I'm not really eager to see this...

Master P has been cut by the Hornets, didn't make the WCW, then got waived by the Raptors, but now he signed with the San Diego Stingrays, an International Basketball League team. This league is starting this year and features eight teams. Master P will play under his given name of Percy Miller, and has signed a deal worth estimated $75.000, nothing compared to his earnings in the music-business. I quote Charles Oakley of the Toronto Raptors "He can go back making records, and we can go back to playing basketball".



November 30 marks the release of Rakim's new album "The Master", and it will include tracks like "Real Shit" featuring Canibus, "It's A Must" with Rahzel and "Waiting For The World To End" featuring Lauryn Hill.

Juvenile's album, "The G-Code" is set for December 7, and it will probably sell a couple of copies like the last few Cash Money projects.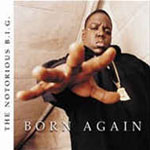 Tupac will be featured on "Born Again", Biggie's upcoming album, but I'm not sure if this is one of those "Changes"-type of verses stuck together over a new beat. Tupac's new album "Still I Rise" will have some new material as well as some material which was on bootlegs. It'll drop in December too.
A 2Pac Youth Conference will be held next month in Oakland, it is about closing the gap between the youth and the adults who critize the culture. There will be workshops on Tupac's life and work, youth issues, police brutality and the upcoming California crime bill, a bill saying 14 year olds can be charged as adults for spraying graffiti. Afeni Shakur, Geronimo Pratt, Digital Underground and Mac Mall will be there.

UGK's new album "Dirty Money" has been pushed back to December 14. Goodie Mob's third release "World Party" will drop December 24, and they have an album coming up called "Leftovers", with, as you may have guessed, songs that didn't make the final cut for the previously released albums.

Hip Hop Magazine Blaze will celebrate its first anniversary with another MC-battle at NYC's Kit Kat Club, and it will be hosted by Doug E. Fresh, Fatman Scoop and Miss Jones. DJ Enuff will be on the 1 and 2. Breez Evah Flowin', a former champ, will battle Louie Knuckles in the Battle of the Champions, while these MC's will battle for the 1999 Blaze Battle Championship title: MC Terror, Tim jones, Ali Vegas, Cap One, King Sun, KT-Killa Tactics, John Notty, Don Caban, C-Rayz Walz, E-Dub, Vendetta, Head Krack, Pumpkinhead, Virtuoso, AAB and Phiakan. The winners of each title will battle each other too.

EPMD were the headline for the Lyricists Lounge Tour in Los Angeles but kinda dissapointed the crowd because they had to to use a DAT and a local DJ, because DJ Scratch missed the plane. Other artists featured on the show were The Outsidaz, Planet Asia, Ras Kass, Saafir, Whoridas and Screwball.
Erick Sermon is working on his third solo album which will be released in Fall 2000. Phife will drop his solo-debut somewhere around that time too, and I'm eager to hear that one. Guests include Slick Rick, The Beatnuts, Slum Village, D'Angelo, The Beatminerz and Lootpack...quite impressive! Busta Rhymes will drop his fourth album "The Anarchy", Rah Digga still has to drop her album "Dirty Harriet" and so have Lord Have Mercy "Thee Ungdoly Hour", Rampage, Baby Sham and Spliff Star, the last three will release their albums somewhere around March 2000. A new Flip Mode Squad album will be released somewhere next year too.

Kool Dj EQ, from Las Vegas, has just released one of the dopest albums, "Beats and Lyrics Vol.2" for this year. It features some pretty 'hard to find' artists like Ed O.G. (damn, he's still as dope as he was when he 'disappeared'), Dres (Who just released his solo album) and The Pharcyde (like I said some time ago, Fat Lip was likely to do some production work on their new effort, but now rumours are Fat Lip will join the Pharcyde again), but Abstract Rude really rips it on this album with 3 tracks, one teaming him up with Aceyalone on "Me and My Main". Casual is also on the project with a song called "The Scandle".

Some of you may have heard about the "Hip Hop Greatest Day" project by XXL, or may have read the magazine with the nice poster (if you're interested, mail me, I could try to scan it) with some 170+ MC's posing in Harlem, now the documentary will be released, which was filmed at the scene. It will be aired by HBO.

Lateef and Blackalicious will be featured on two suprise tracks on an underground compilation, to be released any time soon, I'm kinda looking forward to it, not only because I like surprises, but I liked what I heard from Blackalicious. They just finished recording their fort-coming album "Nia". Singles taken from the album will be "Do You Love It Enough?" b/w "Trouble".

Antra, Kurupt's own label, has signed voaclist/teen rapper Sheeba Black. Kurupt's album will hit the streets November 16. The playlist for Kurupt's new album "Streets Iz A Mutha":
1. I Call Shots
2. Loose Canons
3. Who Ride With Us
4. Represent da GC
5. Welcome Home
6. Tequila
7. Trylogy
8. Never Gonna Give It Up
9. Streets Iz A Mutha
10. Can't Trust Nobody
11. It Ain't About You
12. Girls All Pause
13. Your Girlfriend
14. Hoe's A Housewife
15. Without My Homeboys
16. Step Up
17. Live On The Mic
18. Callin' Out Names

DJ Quik and MC Eight squashed their beef and recorded a song with Xzibit for a soundtrack. Probably MC Eight will be featured on DJ Quick's upcoming album "Balance & Options" too.

Del The Funky Homosapien is teaming up with fellow-Hieroglyphic crew member Casual for a track called "Smash Brothers" and will record "Code Red" with his friend K.U.. Ice Cube, his cousin, probably won't be on Del's album, but they are cool again so maybe it will happen in the future.

The X-ecutioners will release their next album on Loud, early 2000, and will feature artists like Pharoahe Monch, DJ Premier, DJ Jazzy Jeff (who's coming with his own album too), Big Pun, Kool G Rap and Mad Skillz.

"Hip-Hop Underground's Finest: The EP" is something worth a listen too, it will be released on Hydra Records, Godfather Don's label, with new tracks from Prince Po of Organized Konfusion, High & Mighty, ED O.G. (yes, again, he's back and it shows), and Godfather Don with the likes of DJ Spinna, Nick Wiz and The Alchemist behind the boards.

Actress Nia Long, who you might know from "The Fresh Prince", "Soul Food", "Boyz In The Hood", "Friday" and "Made In America", will be directing the new video for the new single from The Made Men, hmm, this is getting too obvious, there's an article in the newest Source about her. Speaking of which, it had a nice "underground" edition that time, I appreciated that edition.

The Beatminerz compilation album coming next year on Rawkus records, will have appearances by Tash, Rah Digga, Busta Rhymes, Bahamadia, Ras Kass, The Roots, Isaac Hayes (he will also be on De La Soul's new album) and others.
The Tash album will come with a compilation disc, which features material from several Loud artists like The Beatnuts, M.O.P., Big Punisher, Raekwon, Project Phat and others.

Common's new album will be titled "Like Water For Chocolate", he's currently working on it with Mos Def, The Roots and others. The Roots will do a song based on Bob Dylan's "Hurricane", and will feature Common, Mos Def and Dice Raw. This is for the Denzel Washington movie which has the same name.
Medina Green, Mos Def's group, have signed to Mammoth Records and will start recording for their new album somewhere this month.

Damn, I never thought I would be saying this, but I like what I heard about Will Smith's album; he's got a song on it with Slick Rick and Biz Markie called "So Fresh", Will Smith claims his album will be a combination of the Jazzy Jeff & Fresh Prince style and the new party vibe. We'll see.

Look for the soundtrack of MTV's "Celebrity Deathmatch", it's got tracks by Rakim & Canibus ("I'll Bust 'Em, You Punish 'Em"), Eminem ("My Fault"-remix), Xzibit ("Celebrity Deathmatch"), Last Emperor ("Secret Wars"-Prince Paul remix), and Kool Keith ("Bow To The Masta"), pretty impressive huh? The downside to it is that it got a lot of rock and punk tracks on it, but some people might appreciate that too.

Ruffhouse Records founder Joe Nicolo has just formed a new record label called Judgement Records, and will be distributed by RCA. Already signed to the label is former Ruffhouse act Kriss Kross, they will drop an album in March 2000. Other artists signed to the imprint are Co-Defendants, Ced Sinatra and Roc Monroe.

British HipHop act Braintax is about to drop a new EP. The album features "Tools", "Rational Geographics", "Go There" with beats by Ben Grymm, "Making Moves" with Lewis Parker & Supa T, and some instrumentals.

Tragedy Khadafi's album is coming soon, the lead single "Bing Monsters", which featured Ja Rule and Headrush Napoleon, is tight and is already in stores. Check for precious Paris's album "Floss on my Level" on Nervous Records anytime, it features the songs "4 Ps in a Pod" and "Floss on my Level" with Paula Perry and Faison, which were released as a 12".

(by Herbz)
Here's the tentative tracklisting for Cilvaringz' upcoming album "The Killa B-Ching".

Shaolin School

01) Poison Ring Chamber (Intro)
02) Valentine Day Massacre w/ U-God, Holocaust, Shabazz & 12 O'Clock
03) Razasharp
04) Ninja Starz w/ RZA - Barrakjudah
05) Tongue Fu / Dartmageddon
06) When All Hell Brakes Loose
07) Throw Your Sword Up w/ Killarmy

Allah School

08) Gold Bell Cover
09) Man Woman & Child
10) The Method (Interlude) w/ spoken by Method Man
11) Family
12) Hail Snow & Earthquakes
13) Poison Ring Chamber (Outro)
14) Nagin (Bonus track)


---
© 1999 ART12/VanderHoek Publishing. All rights reserved.