Ahh… Push it, Push it…

Tommy Boy Records has pushed back the releases of D.I.T.C.'s album, "All Luv" and Screwball's "Y2K" albums. D.I.T.C. will be in stores on February 22 and Screwball will drop on February 8. Other albums set to drop on February 22 are Afu-Ra's "Body Of The Life Force", Outkast's "Stankonia" and A.G.'s "The Dirty Version".

Cold Crushin' back on the scene?

The Cold Crush Brothers will release a new album called "Wild Style 2000". They are also working on a lot of other projects. More info on this, will be on their web-site which will be up by February 1. Grandmaster Caz already released a solo album on DJ Parker Lee's Jazz Child Records. The album is simply titled "Grandmaster Caz" and features 14 brand new cuts with guest appearances by Raheem of the Furious Five and Reggie Reg of the Crash Crew.

The Black Eyed Peas new album will be titled "Bridgin'Gaps" and will be released in April. Guest appearances will be Wyclef, Lenny Kravits, DJ Premier and De La Soul.

Mr. Len of the underground trio Company Flow will release his solo album called "Pity The Fool" this Spring. Guest appearances by Juggaknotz, Bahamadia, Dilated Peoples, Jean Grey and of course Company Flow will be on the album.

Keep it in the family

Eminem has more family troubles. Now his grandmother says she is gonna sue him for using a sample of his uncle's tape. She said she didn't want to hear her son on Eminem's devil music. Eminem told MTV: "I'm going to let the public judge for themselves what idiots my family is." But he stated he wouldn't use the sample although he wanted to use it for a dedication song for his uncle who passed away. Eminem has married Kim last summer as Detriot News told in a story. Her mother told the paper: "Marshall (Eminem) is just a down-to-earth guy."

Hiero Imperium

The lead single for Souls Of Mischief's upcoming 3rd album, "Trilogy" will be "Accu-Puncture" b/w "Medication". Medication will be produced by Opio who also will do a remix to Accu-Puncture, an A+ produced joint. The video for the Medication single will have the Souls snowboarding in Tahoe, Nevada. In other Hieroglyphics news Casual will release his new single on Stimulated/Loud records, which will be released somewhere this month.
More Hiero-news; Casual and Del The Funky Homosapien will do an album together. The project is titled "Smash Brothers", the only other thing I know about it is that it probably will be releases on the Hieroglyphics Imperium recordings label. It will be released somewhere this Summer. The reason Del's solo album takes so long is that a big distributor, they won't say which, wants to have the album in all stores, it should be out somewhere in March and will be titled "Both Sides Of The Brain". The whole Hieroglyphics crew will also star in a new kung-fu flick called "HipHop Kung-Fu Pt. 2", part 1 "Birth of the Holy Dynasty part 1" was released two months ago. The first part featured cameos by Del and the Souls Of Mischief performing live on stage. The second part will have the Hiero members in some major acting roles. For example: Tajai will play an old-aged, gray haired master of kung-fu. The Mighty Pythons project with the Pharcyde and Souls Of Mischief will not feature the songs recorded with former Pharcyde member Slim Kid Tre, as he left the group. The new Pharcyde album will have production by Diamond D and features the likes of Q-Tip, De La Soul and Black Thought.

The Outsidaz will release an EP this month on the new Ruffhouse spin-off label Ruffnation. (www.ruff-nation.com) The six cut EP will be called "Night Live" and will be special priced.

Stones Throw artist Peanut Butter Wolf will do a track for an LP which will be released by Priority Recordings. The project is called "MTV Presents The History Of The One And Two's", a combination of old and new tracks all done by big name hiphop DJ's like Grandmaster Flash, DJ Premier, Grandwizard Theodore, Malcom McLaren, Q-Bert and others.

Kicking a brand new flava in ya ear…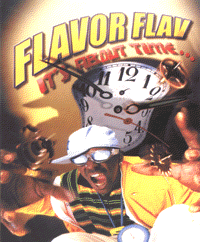 The new Flava Flav album is called "It's About Time" and will be released on January 11th. Flav says it took so long (an 8 year delay) because Def Jam's Russel Simmons and Lyor Cohen held him back for a long time. The album is entirly produced by Flav himself and has a remake of Chigago's "Does Anyone Really Know What Time It Is". Flav also has recorded a song called "Pass The Torch" which features Bushwick Bill, Busta Rhymes and Ol'Dirty Bastard. A special limited download of the album's first single "Flava2k" will be available at www.flavorflav.com.

Ruff Times

Kool Keith has e-mailed 3,500 of his fans to ask them to demand action from 11 Ruffhouse staff members. He gave them the e-mail adresses of those persons and asked them to 'spam relentlessly'. Keith said "I was tired of people asking me 'what's going on'and I didnt have no answers for them, so I'm giving the kids access to the people they need to speak to about this project. Ask for wigs, product, posters, videos, radio, etc." Apparantly the tactic worked as each of the members received 1,000 mails.

Rock the bells…

Just when you thought you heard it all…Loud Records are planning to release a compilatition album titled 'Loud Rocks'. The record company will have rock groups covering and collaborate with it's own artists. The label wants artists like Ozzy Osbourne, System Of A Down, Sick Of It All, Rage Against The Machine, Limp Bizkit and others to record tracks for the project. Everlast will cover Mobb Deep's 'Shook Ones' and 'Incubus' will do a cover of Big Pun's 'Still Not A Player'. Lordz Of Brooklyn will take part in the project with a yet to be announced well-known producer. The Alkaholiks will collaborate with Rage Against The Machine and The Wu-Tang Clan or Raekwon will collaborate with Limp Bizkit.

Nasarotti

Nas is focusing on his next project called the "Hip-Hopera". It's a remake of the classic opera "Carmen" and it will be aired by MTV. Rosario Dawson will replace Dorothy Dandridge and Nas will be playing her boy-friend, which was Harry Belafonte's role in the original motion picture version.

Premier, The Roots, Jay-Dee and D'Angelo will be handling most of the production for Common's new album "Like Water For Chocolate". Sadat X, Mos Def, The Beatnuts, Canibus, Q-Tip and Method Man all will appear on the album.

While the new Capone-N-Noreaga album, "The Reunion" is slated for a February release on Tommy Boy Records, because Penalty Recordings recently went down, Capone's new album, called "The Pain & The Agony" will hit the stores somewhere this Fall. Of course Nore will guest on the album but Maze and Muzzolini also will do some vocals on the project.

Delicious indeed

Delicious Vinyl has released a compilation album with some of the label's old songs on it, like Young MC, Masta Ace, The Pharcyde, etc., but the album will also feature some new cuts like the "Goldmine"track done by Fat Lip. Rumours have he is secretly recording his own album which will drop somewhere this year. If it's more of that "What's Up Fat Lip" stuff, I'm sure I'm going to like it.

So get that Flash-Lyte in my face

Grandmaster Flash and MC Lyte have both been signed by Satelite Radio. Grandmaster Flash also does the music for Chris Rock's show on HBO and is currently working on a film based on his own life story. MC Lyte will release her new album on Will Smith's Overbook / Interscope Recordings and also has a role in the WB Network's "For Your Love" series.

Mjuice bringing the Rawkus

F.T. of the Street Smartz will be working on his solo album which is titled "The Curse", again Premier (this is getting silly), Young Lord, the Alchemist, Buckwild and Eddie James will be doing production.
Rawkus Records has joined with www.Mjuice.com in a promotional deal. Mjuice is a leading mp3 retail company and Rawkus will allow Mjuice to offer tracks of several Rawkus artists like Kool G Rap, Shabaam Shadeeq, Mos Def, Pharaohe Monch and the late Big L.

Xzibit has changed the title of his upcoming album from "Man v.s. Machine" to "Restless". The project will feature a lot of production by Dr. Dre and will drop April this year.

Fox Television will do a 'biopic' on Russel Simmons life story. This subject is the same as the one in 1985's Krush Groove. Fox expects it to become a four-hour mini-series, and the music will of course feature a lot of Def Jam artists.

Y2Clan

U-God of the Wu-Tang Clan recently told on the Wake Up Show with Sway and Tech, the Wu-Tang Clan would drop another album this year, it's slated for a June release and the members will start working on it as soon as Ol'Dirty Bastard will be out of drug-rehab. Also on the menu are new RZA, Masta Killa, Raekwon ("Only Built for Cuban Links Pt. 2", which will actually be a Ghostface and Raekwon collabo), Ghostface Killa ("Supreme Clientele"), Killah Priest, Cappadonna, Killarmy, Remedy and Method Man albums.

Next Moment of Truth

Gangstarr will release their new album somewhere this summer, they are aiming for a June release. Guru will do a new Jazzmatazz album after the Gangstarr album, the Jazzmatazz will feature guests like Herbie Hancock, ?uestlove, D'Angelo, Premier and the Neptunes.

99.9 Percent dis

On his new track, "99.9 Percent", Jeru takes some shots at Gangstarr like saying stuff about "Words I Manifest", "Friendship vs. B.I." and "Moments of Thruth". He finishes one verse with "If you're not from East New York, you're a motherfucking snitch." This is kinda strange since Premier will be doing some production on the album, something Jeru said there wouldn't be on this album. Maybe they had some problems but they're all cool again.

Erick Sermon will release a new solo-album this Spring called "Def Squad Presents; Erick's Onasis". Ja Rule, Redman, Def Squad signee Dave Hollister will all appear on the album.

Ice-T will do some acting again in "Leprechaun 5: In The Hood", boy that must be a b-movie…

Fo(x)yeur

Lil'Kim recently called the police because she thought she was getting stalked. When the police arrived they found a drunk Foxy Brown sitting in her car, Foxy was kinda annoyed with the attention Kim has been getting lately. Kim already told The Source how she thought Foxy was obsessed by her, which could be true since Foxy has completely taken Kim's flow and delivery.

Things will come together in 6 months

The Roots will take a six month break to do some solo projects. Black Thought will do some acting, record some solo tracks and hopefuly will do some recording with that super group I mentioned a couple of months ago. Malik B will do a solo album. Hub is going to do some acting, Scratch will do a Beatbox Quartet, ?uestlove will be drumming for D'Angelo.

Bad Boys

Bad Boy recording artist Shyne has been charged with three counts of attempted murder. He shot three (innocent) bystanders at the event where also Combs and Lopez were arrested. If the jury finds him guilty, he will be gone till November 2025. Bad Boy mogul Puffy has been sued for 800 dollar, by a man who was shot in the arm at the scene where Puffy and Jennifer Lopez were arrested last week. (www.blaze.com)

National Flossing League

NFL Seattle Seahawks player Ricky Watters will release his five song EP titled "Eye Of The Hawk" this Spring. It will be distributed by his own Thorobred Entertainment, and parts of the profit will go to underpriviliged youth. Watters recorded a song with Method Man a couple of years ago for a NFL Compilation album.

Check for that new Bumpy Knuckles (Freddie Foxxx) 12" it's kinda hot just like his last. Production is handled by the Alchemist and Pete Rock. The 12" is called "Bumpy Knuckles, Baby" b/w "Stock In The Game" and its got this nice cartoon-like drawing on the cover just like his last 12".

Stars still shining

The rumours about Blackstar breaking up are not true. Both Mos Def and Talib Kweli clarified they will release their next album on Mos Def's label. In the meantime Talib Kweli has been working on his own project which will be released this month or in February (damn, it looks like February is gonna be a hot month…). Check XXL with an article about Mos Def and Pharaoche Monch

The rumours about a Binary Star break up are not true. They are just doing some solo projects, to kill the rumours they will do a tour anytime soon.

Longest sentence about mixtapes

A couple of weeks ago the 4th Annual Mixtape Awards were being handed out. Mr. Cee was named best mixtape DJ, Craig G won the Brucie Bee/Star Child Award (pioneer), the Best New Mixtape award went to The Green Latern, DJ Clue won Best Commercial Mixtape, DJ Doo Wop was voted Best Personality On A Mixtape, B-Lord had the Best Blends On A Mixtape, Best Hip Hop Mixtape was done by K-Slay, The Baka Boys got the Pink House Award (Most Influential DJ in the market), DMX got the Best Artist On A Mixtape Award, DJ Juice went home with the Award For Best Skills On A Mixtape and DJ Ace was the Best Club DJ of 1999. Could not find who won the award for 'Making Up Awards For Mixtapes'

Banging Who?!?

Mack 10 is ('hoo')-bangin' T-Boz of TLC fame. T-Boz said she had a relationship with the Westside Connection member. Speaking of the Westside Connection, they will drop their new album this summer too.

Rakim has an own clothing line called "UBX-Urban Expedition". Mos Def will have his own clothing line on Ecko. It will be an urban clothing line and will be cheaper than most of the current hiphop related clothing lines.

Saul William has a new joint out with U.K.'s DJ Krust called "Coded Language", the joint 8 minutes in length and shows that Saul William is much more than just an average spoken word artist. The track is mostly about hophop. A video will be out soon which will have Saul William literally spitting his verses. For those who don't know Saul Jones, he has a track on the Slam soundtrack, which is tight too.

Big Players

Nintendo has announced a contest where computer game fans and hiphop fans can write rhymes for a new Donkey Kong game on the Nintendo 64. It's called "DK Rap Attack", and you can download an instrumental MP3 at www.donkeykong64.com so you can write your verse to it. If your verse is done you must record it on video tape while you're performing it. The judges will look at creativity, talent and relevance to the game. The deadline is January 14th and the winner will get to record the verse official and get lifetime airplay on the site, future versions of the game and Donkey Kong 64 merchandise.

Non Phixion will release their next single titled "Black Helicopters" on February 22 on Matador Records, the label on which the The Arsonists are also signed.

Queen Latifah's takes her throne

Queen Latifah will release her next compilation album, "The Takeover" early this year. Featured artists include Channel Live, Nikki Strong (formerly Nicki D) and Big Bub. Newcomers are Rowdy Rahz, Antoinique and F.A.T.E.. It will be an R&B and Rap compilation and will be released on her Ghettoworks label which is part of Flavor Unit Entertainment. Production will be handled by Kaygee, D Moet, Kendu, Apache, Latifah, Latee and Shakim.

Another trick up the sleeve

Trick Daddy is going to put the finishing touches on his follow up to "Trick Daddy Dollars", his new album will be titled "Books Of Thugs, Capter: AK 47". In other southern hiphop news, Scarface will release his new album "In My Time Of Dying" on February 1st. After the release he will fully commit himself to his family and his new job as head of Def Jam South.

Ruff Releases

The Lox will drop their album "We Are The Streets" on February 11. Swizz Beats, Timbaland and Premier all will be doing some production. Here are some other Ruff Ryders release dates: Drag-On "Opposite of H2O" will drop on January 25th, Swizz Beats will release his album on March 7th, a Jadakiss solo album is set for April 8th and a Parlé album will drop in April.

But who protects us from you?

And of course there was the story about this ex-police officer who became a suspect of Biggie's murder. This officer who is already in prison for bank robbery is among the suspects of the 1997 slaying of Christopher Wallace a.k.a. The Notorious B.I.G., one theory is that the officer, David Mack conspired with Death Row founder Suge Knight, who is currently serving a 9 year sentence for attacking two rappers, to set Biggie up. Police are investigating the theories and have pointed out another suspect, Mack's longtime friend Amir Muhammad who was at the time known as Harry Billups, and has dropped out of sight since visiting Mack, who is now serving a 14 year prison sentence, in prison on March 9, 1997. Police have been trying to build a case against Mack for two years now.
It's also said Biggie had beef with some Southside Crips who claimed he owed them money for providing him security. Both Mack and Suge Knight are Piru Bloods, an other gang. A dark-coloured Chevrolet Impala was seen near the shooting, the same car Knight owns. While Knight was in jail at the time of the shooting he may have ordered the killing and provided the materials. Mack was said to have strong connections with the Death Row Label, both personal and in business. He was quoted saying: "The weak and those who talk too much get eliminated." As detectives investigated further into Mack's involvement, they noticed how the time gaps between the bank-robbery, the killing of B.I.G. and his working schedule perfectly made sense, a day before and after the killing Mack took a day off.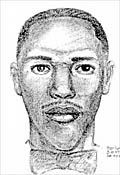 The Composite Drawings are questioned too, after witnesses said there were detailes added to the drawings they never suggested. The drawing shown to the public was also different from the one shown to the media two weeks later. When the investigators searched for Muhammad they only were able to trace down false adresses and post office boxes. Damien Butler who was riding in the same car as Biggie Smalls pointed out the picture of Muhammad which was selected among six others, Butler said: "I'm sure this guy was standing just outside the door of the museum, as we entered the party." So far the police aren't any further than this but at least they are still investigating the whole case.